Following is a partial list of acts slated to perform on the
Southwest General Stage
at the 2017 Berea's National Rib Cook-Off. We'd like to extend special thanks to Southwest General for their generous support of our event. To find out when a particular act is set to perform,
click here
to check out our Southwest General Stage Performance Schedule.
Gary West – For the Love of Cash
Website: garywestmusic.com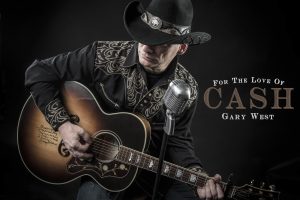 Gary West was born and raised in a rural farm area, 35 miles east of Indianapolis, Indiana.  His given name was Gerald Boger Jr. In 1985 while on tour with Tommy Cash (brother of Johnny Cash) Tommy told Gerald that he needed a new name if he was going to be in show business. Later that night during Tommy's performance, Tommy introduced Gerald as, "Gary West on the drums".  The rest, as they say, is history. That same band that was backing Tommy Cash that night, was formed by Gerald in 1978. Amazingly that band continued to perform all over the US and Canada for 13 years. That band was the Royal Aces. (That's a whole other story). In 1988 Gary moved to Nashville, TN in a "1963 GMC 4104 tour bus" with everything he pretty much owned in that bus, and the journey began.
After a few short weeks in town, Gary landed an "artist gig" with Grand Ole Opry star, Del Reeves. Gary went on to perform with many country music legends such as Tommy Cash, Little Jimmy Dickens (12 years total), Jett Williams (1 year), The Drifting Cowboys (1 year), Del Reeves (2 years), Jean Shepard, Charlie Pride, Hank Thompson, Melba Montgomery, Ferlin Husky, and many other Grand Ole Opry legends.  Gary recalls, "One of my favorite things to have been a part of was the "Drifting Cowboys". This was Hank Williams Sr.'s original old band with Don Helms on steel guitar and Jerry Rivers on fiddle. These two men were icons in country music history. They played on Ray Price records and with Patsy Cline and Hank Williams to name just a few. We toured all over Germany, Switzerland, Holland, and the US that year. We also performed with Jett Williams on the German Country Music Awards. What an unforgettable experience."
As an artist, he performed throughout the US and Canada as "Gary West and the Wild Wild West Band!" This was a hard driving, country/rock style sound with steel guitar. How can you be country without a steel guitar? Later "The Gary West Trio" became very popular in Nashville and he enjoyed a six-year stint at the world famous Opryland Hotel in Nashville, TN. He mainly performed at the "Pickin' Parlor" and the "Jack Daniels Saloon" located inside the hotel.
One night backstage at the Opry, Justin Tubb (son of Ernest Tubb) invited Gary to be a guest on the world famous "Ernest Tubb Record Shop". This is one of the longest running radio shows in the world and has a profound mark in music history. It was truly an honor to perform and be invited by Justin Tubb himself.
The push to be a Nashville recording artist continued as Gary worked with different managers including Mike McDaniel (brother of Mel McDaniel) and Kari Reeves/Del Reeves Productions (she got Billy Ray Cyrus his record deal). He has sung demo's for many songwriters. In one studio alone he sang 65 demo's in one summer.  He sang several demo's at Jim Allison's studio and co-wrote with Jim Allison and Kari Reeves. (Jim wrote seven #1 records for Reba).
In 2002, Gary took a break from singing but continued to perform with Country Music Icon "Little Jimmy Dickens" on the Grand Ole Opry. In 2009 there were changes made in the Grand Ole Opry in that stars with Country Music Hall of Fame status were no longer able to keep their road bands on the Opry after they retired from the road. Sadly, in mid November of 2009, Gary and about 16 other musicians were cut from the roster. 
In 1998 Gary began producing his own music and continued producing projects for many songwriters. Gary began using his technical talent and his own recording studio as a service to other musicians, songwriters, and artists. Some notable people Gary has recorded or produced for specific projects include Mark Collie, Craig Campbell, Ken Mellons, Lance Allen, Terry Bayless, Jason Roller, Buddy Spiker, Fred Newell, Johnny Hiland, JD Myers, Chuck Courtney, Becky Coyle, Brian Glenn, Doug Jernigan, Chasing Lexi, Mark Cash, Dennis McCall, Kim Parent, Cotten Payne, Hoot Gibson, Darrin Vincent, Ric Sandler, Mike Oldham, Jessica Miller and more.
Colin Dussault's Blues Project
Website: colindussault.com
Award winning harmonica driven, blues based, roots, rock and soul music' is what best describes the musical stylings of COLIN DUSSAULT'S BLUES PROJECT. The band was formed in Cleveland, Ohio in May of 1989 by lead singer, songwriter, harmonica player Colin Dussault. In addition to Dussault, the band's current lineup consists of guitarist Jim Feeney, bassist Fred Tobey, Pianist Gregg Hurd and drummer Freddie Perez-Stable.
If you would like to read an in depth and comprehensive biography about Colin Dussault and his band click here (pdf format 4MB).
Dussault's career in music is more or less his destiny as opposed to a vocational choice. He was born the son of a bass playing father who experienced some success in the musically fertile 1960's. Colin's father Artie played bass in several of the top groups that worked in and around Cleveland in the late 1960's & early 1970's. In addition to the Crawling Group and the Blackwelles his father worked in the United Artist Records recording group Audi-Badoo which featured members of the aforementioned bands in addition to former members of the Tree Stumps.
Growing up Colin spent much of his time listening to his father's vast record collection while building an impressive audio library of his own. While doing so he was exposed to and absorbed a myraid of musical styles. His musical influences range from Blind Willie McTell, Muddy Waters, and Little Walter to Country Joe and the Fish, The Youngbloods, Woody Guthrie, Doc Watson, Cream, the Beatles, Bob Dylan, the Rolling Stones, Led Zeppelin, Frank Zappa, The Left Banke, Buffalo Springfield and Lyle Lovett.
In the time since the band's inception on Colin's 19th birthday in 1989, Colin Dussault's Blues Project has played literally thousands of shows in and around Cleveland, Ohio western Pennslyvania, western New York, St. Louis, Missouri and Chicago, Illinois. This busy performance schedule has prompted more than one reviewer to call Colin "The hardest working blues man in Cleveland."
While maintaining an impressive list of local club appearances, sometimes working 4 to 6 nights per week, he and his band have also shared the stage with such luminaries as Bo Diddley, the Fabulous Thunderbirds, Buddy Guy, Junior Wells, Bad Company, Robert Lockwood Jr., Carey Bell, Brian Auger, James Cotton, Blood Sweat & Tears, Buckwheat Zydeco, Eric Burdon, Jeff Healey, Koko Taylor, and Storyville.
Dussault's tenacity and talent have secured him a secure place alongside Cleveland area musical stalwarts like Micheal Stanely, Robert Lockwood Jr., Wallace Coleman, Crazy Marvin, Mr. Stress, Travis Haddix, and Greg Bandy.
The band has released ten compact discs and one 90 minute video all on Colin's own Erica Records label.
Whether they are called upon to entertain guests at a wedding, a corner tavern, a rib burnoff, a private or corporate party, a yacht club, a backyard barbecue or a fund raiser for First Lady Hillary Rodham Clinton the band is capable of pleasing any group of people in any situation. They are able to do this by drawing from a set list consisting of original music as well as blues, rock, country, jazz, swing, folk, reggae, Motown and the occasional polka. Colin and his band boast an impressive knowledge and understanding of a plethora of music and musical styles.
The Stickers
Website: thestickers.com
Band Bio (PDF): Click here
Billboard sounds off on The Stickers:
"I have got to hand it to new trio the stickers. A brother trio from Pennsylvania, these guys really set themselves apart with their soulful approach. I really liked this one – a lot. And I think you will too!" – Chuck Dauphin, Billboard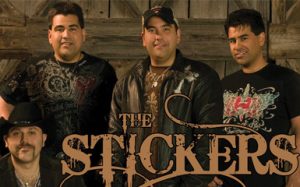 Pittsburgh based country band the stickers had break through year in 2014 and have come out of the gate strong in 2015! Their new single "Country Proud" is airing on over 70 radio stations across the nation, and last year's single entitled, "Separate Lives", climbed to number six on the charts in Europe in just a few weeks and charted in the US. The latter single gained attention and a glowing review from the iconic Billboard Magazine. This is just the start of what is to come. The Stickers are recording the new music in Nashville with RPM Records and have a great team of Nashville's heavy hitters helping them along the way.
The Stickers have built an excellent track record:
They set record attendances at several summer and fall events throughout the northeast and midwest
They are two time CMA Fest Artists,
Three time Billboard Song Writing Award winners
They have charted singles on country radio in the US and Europe and had a song on the charts for over two years
The Stickers have appeared across the country with some of music's biggest names: Florida Georgia Line, Blake Shelton, Zac Brown Band, Chris Young, Miranda Lambert, Hank Williams Jr., Kellie Pickler, Little Big Town, Justin Moore, Alan Jackson, Clint Black, Uncle Kracker, Joe Nichols, Dwight Yoakam, Travis Tritt, Jamey Johnson and more.
Seven Nations
Website: sevennations.com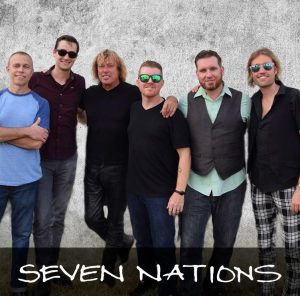 Seven Nations is not your father's Celtic band. With a passionate, tender, and rollicking style that winningly veers from roots and folk to dance and fusion-rock, Seven Nations has earned a growing reputation as an adventurous band with a charismatic stage presence.
"Seven Nations — the name refers to the seven original Celtic nations of Scotland, Ireland, Wales, Cornwall, Galecia, Isle of Man, and Brittany — officially began in 1993 in New York City with a standard line-up of drums, guitars, and bass," notes lead singer and guitarist Kirk McLeod.
"We soon introduced bagpipes into the show, and over time the number of songs utilizing bagpipes grew until it became obvious that they were integral to our emerging sound," says McLeod. "Most of the band members grew up playing Celtic music, and we've been performing original compositions since we began. Our instrumentation, and bagpipes and fiddle mostly, give us a distinctive sound and that's what makes us different."
Seven Nations has been touring full-time since 1994 with successful stops in Europe, Canada, Puerto Rico, and virtually every state in the US. The band has recorded a number of albums with over a quarter million units in sales. The band's latest album, Time as the Enemy has been praised for "having the appeal of the original albums, yet a mature songwriting style. The lyrics are relatable, surprising, and the pipe/fiddle hooks stir a desire to listen to the album over and over."
Its versatile and dynamic style has stamped Seven Nations as a highly book-able band, with an ever increasing and loyal fan base. The group has performed at a variety of venues, from nightclubs and pubs to festivals and street fairs. They've done it all. Recently, garnering the attention of the Orchestra world by including dates with several American orchestras, most notably the multi-Grammy-winning Atlanta Symphony Orchestra, the Jacksonville Symphony, and the South Carolina Philharmonic. They also became the first Celtic rock band to bring this exhilarating collaboration to the stage at an outdoor Irish festival, when they performed an entire show with the Columbus Symphony Orchestra at the Dublin Irish Festival.
In addition, Seven Nations has played the Winter Olympics in Salt Lake City, a New Year's Eve performance at Scotland's Royal Mile for some 40,000 people, and at the New York City Marathon.
Seven Nations has been the subject of a multi-million dollar advertising campaign and appeared in over 20 major publications including Rolling Stone, Billboard, Playboy, Maxim, GQ, Stuff, and FHM.
It's been over a decade and close to a million miles logged on the road for Seven Nations since their inception and they're just getting started. With a highly anticipated return to their roots of festivals, touring and recording, this indie band is poised for another amazing decade.
SEVEN NATIONS ARE:
Kirk McLeod – Vocals, Guitar
Jim "Struby" Struble – Bass
Christian "Crisco" Miceli – Drums
Victor Gagnon – Fiddle
Will MacMorran – Bagpipes, Guitar
Aftermath Experience the Sixties
Website: artistecard.com/aftermath
Aftermath Experience the Sixties show recreates the sights and sounds of the 60s featuring authentic reproductions of some of the most memorable songs from the 60s.
Aftermath delivers the sights with period-correct costuming and delivers the sounds of the 60s so authentically it's easy for the audience to go back in time while watching, listening and enjoying Aftermath Experience the Sixties deliver a spot-on, family-friendly performance.
During the show, audiences relive the 60s listening to British Invasion, 60s Pop, Psychedelic and 'Everything Groovy.'  From the Beatles, Byrds & 'Stones to the Monkees, Grass Roots, Turtles and Strawberry Alarm Clock, Aftermath is the 60s while performing the show.
Aftermath has shared the stage with the likes of The Hollies, 1964 The Tribute, Peter Noone, The Vogues, Gary Lewis & The Playboys, The Buckinghams, 1910 Fruitgum Co. and several other national acts. Aftermath also performed shows as a featured headline act at festivals, fairs, community concert series events, rib burn offs and other public and private engagements
Disco Inferno
Website: discoinfernoband.com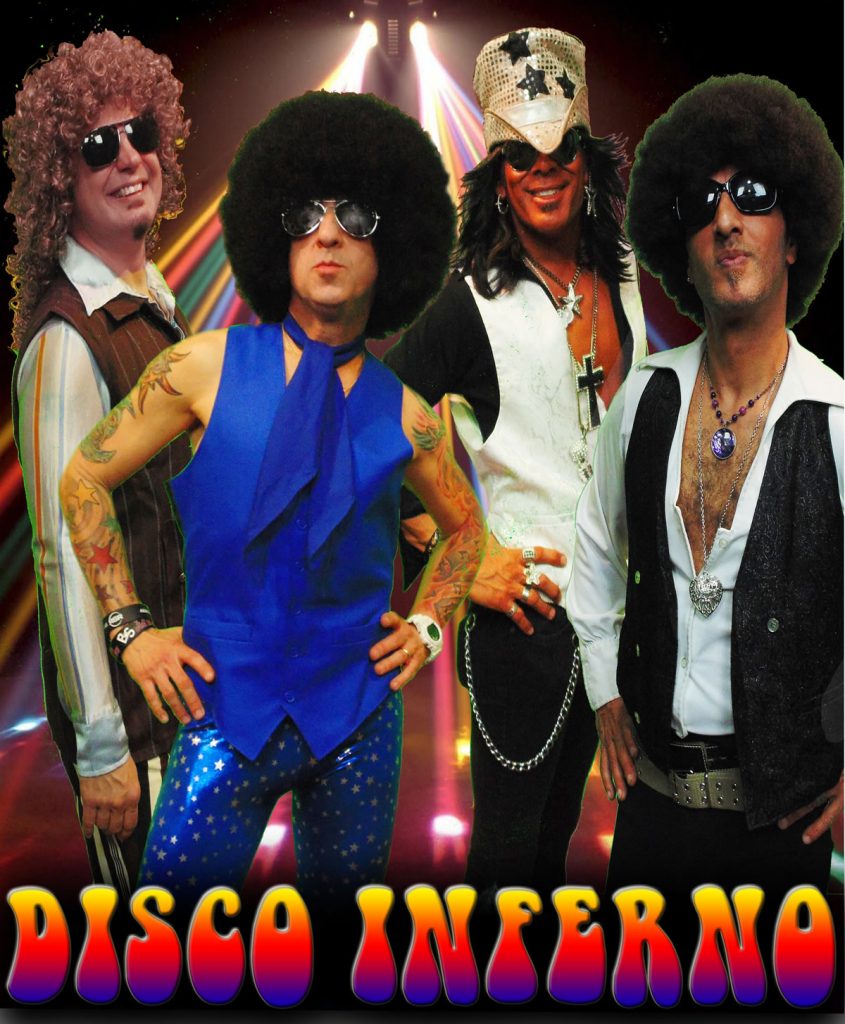 Disco Inferno was formed in 1995 after Sonny relocated from Southern California to the Cleveland, Ohio area. Sonny was an original member of the Boogie Knights, the band that started the disco band craze in 1992. Perfect World Entertainment was formed to manage the Boogie Knights and now has several disco bands under its management. These bands are located in most major markets in the U.S.
DISCO INFERNO is Sonny D. Lite, Joey "Hollywood"  D. Lite, Bjorn Z. Free,  and Rocky Bucacci.
My Manic Episode
Website: facebook.com/mymanicepisode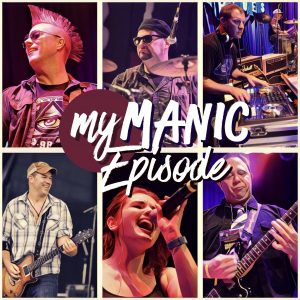 Good times. We've been around the block more than a few times. Enough times to know what a good time is… and is not. We bring your favorite rock, party and rap music into one place. And kick its….
Rugged good looks, a set list that spans your lifetime, immeasurable humility and undeniable talent, MME is your good time waiting to happen.
Come by, check us out, and get down with the Episode.
Recess
Website: recessbandofficial.com/
Recess's music is a one-­of-­a-­kind mixture of all of the band's role models, making it a Pop-­Rock/Alternative melting pot. The lyrics contain a deep meaning and are a looking glass into the minds and thoughts of the band members. The music is genuine, from the heart, pulled from the deepest depths of the band's thoughts, and, most of all, fun and enjoyable.
Recess has been performing together for over 8 years capturing media attention across the United States. These guys, friends on and off stage, radiate chemistry like no other in their music and their performance. They have opened up for Davey Jones of the Monkees, and shared the stage with Survivor, Dennis D. Young and 38 Special. They have played at the famous Whiskey A-­Go-­Go in California and have traveled to New York, Texas, Pennsylvania, Michigan and all of the state of Ohio to perform in front of thousands at renowned festivals and venues. They continue to bombard the music industry with their unique original music and presence.
The Spazmatics
Website: spazmatics.org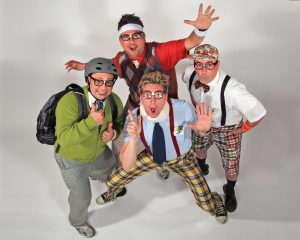 In a world of diminishing intelligence, and questionable talent, four brave men stand alone in the fight for the de-simplification of technology. They long for the day when science was wielded only by the true geniuses, and computers were the farthest thing from being user-friendly.
Four men, united by pocket protectors and bad hygiene decided that no longer would they live in obscurity, content only being masters of cyberspace. They bravely cast aside their fears of rejection and decided that the time is right for geeks, nerds, and dorks to be proud of their taped up glasses and ill-fitting clothes, and restore "their" music to its rightful place.
Now is the time to fulfill the need for dweeb. And so Davy, Neil, Myron and Winston became THE SPAZMATICS… a rare combination of brains and beat. A group way past their time, and not ashamed to admit it. In a strange time traveling accident our heroes were hurtled through space and time. Traveling 25 years into the future they are now here in the year 2010. 1985 might be a distant memory to you, but to the Spazmatics, it's as close as yesterday. Now their mission is to take you on a journey back to a time when synthesizers, drum machines, and infectious beats had preppies and yuppies moving to the nu-wave groove of the geeks they despised. A time when day-glo clothing and hairstyles resembling geometric shapes were the norm. Back when MTV ruled, Michael Jackson was cool and VH1 was for the old folks. Here is a little known Spazmatics factoid: Researchers at MIT used the music of the Spazmatics in dairy farms to see if it would stimulate cows to produce more milk. Reports indicate that the music was successful and the cows did produce more milk, but unfortunately, it all had an expiration date of March 4, 1985.
Caliber Band
Website: thecaliberband.com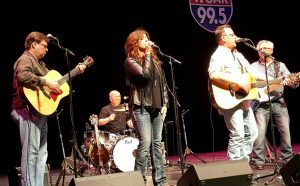 The Caliber Band has grown into the top country band in Ohio as evidenced by their busy schedule. The six piece group presents a wide array of today's top 40 country music like none other in the region and when combined with their powerful stage presence, makes for a exciting performance of national quality.
Chardon Polka Band
Website: chardonpolkaband.com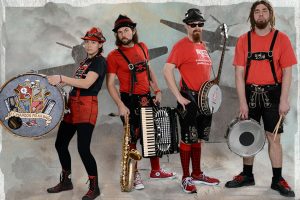 The Chardon Polka Band is known for being innovative and extremely adaptive with the ability to please almost any audience; whether it be 20-somethings at a college hang-out or the patrons of a local senior center. In their nine years together, the band has made a name for itself by adding a colorful twist to the traditional genre of the polka.
The Chardon Polka Band is not your average polka band. They are a group that brings new life and energy to this traditional music. While the group has an extensive catalogue of traditional polkas, they are not afraid to bring their own tunes into the mix along with polka-pop covers of artists like Justin Bieber and Lady Ga Ga. The band got their start in the Cleveland music scene; playing countless area fairs, festivals, and venues. While remaining very active in Cleveland, the band can often be found taking their music on the road and performing at a variety of events across the east. From performing at an NFL game to headlining for some of the largest Oktoberfests in the nation to opening for the prestigious Cleveland Orchestra; the band loves pleasing crowds anywhere and everywhere.
The Chardon Polka Band is happy to take part in continuing the Cleveland polka tradition while adding their own unique edge and antics to the genre.
On April 11th, the REELZ Channel will air "Polka Kings"- a thirty minute reality sit-com based on the adventures and misadventures of The Chardon Polka Band.
The Chardon Polka Band is nationally known in the polka circuit, traveling to Oktoberfests and polka events across the country. The group is unique in the polka world because of their youth, most of the members being in their twenties, and rock and roll attitude. While their hip take on the genre has been labeled "punk polka", the band still knows how to please the most staunch and avid of old school polka fans.
In addition to their television series, the band has been featured nationally on NPR, Off-Beat America (HGTV), and Trip Flip (the Travel Channel), and on countless news programs across the country.
Cruisin'
Website: thebandcruisin.com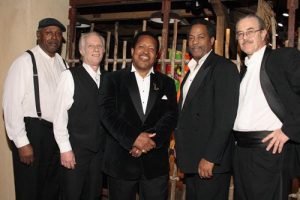 While being noted primarily for its Motown renditions, the band Cruisin's repertoire by no means stops there.  The hits of Al Green, Sly & The Family Stone, The O'Jays, Van Morrison, The Temptations, Santanna, and others are consistently performed with a flare and style second only to that of the original artists.
The band Cruisin' is the blood, sweat and tears of Ron Howard, lead singer, sax player, and founder.  Currently, Ron arranges music for Cruisin' in addition to acting as their booking agent. His goal, in his over 25 years in the music profession, has been to be the best entertainer possible, and to give the audiences great quality music.
To say the least, this is not your typical "let's put it together and play on weekends" group.  This is a dedicated group of professionals with a strong following in a 5-state region who regularly enhance any venue at which they appear, whether it be the club scene, weddings, private parties, or municipal events.
The Clayton Brothers
Website: xanga.com/clayton_brothers
Myspace: myspace.com/claytonbrothersband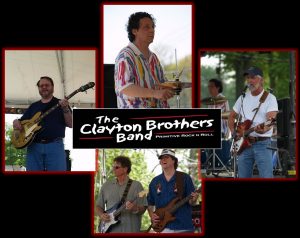 The Clayton Brothers Band and their style of "primitive rock and roll" have discovered, almost by accident, that they have filled the void of a long neglected audience.
The group was assembled by five musicians that simply wanted to have some fun playing some of the old songs that they enjoyed.
Being "Baby Boomers," songs from the 50's and 60's seemed to be a natural choice.
Rather than follow the usual "oldies dance" formula, the Claytons chose a more "primitive" approach. Selecting lesser known songs along with some big hits and choosing songs which have a little more "attitude," the band looked toward The Kinks, Animals, Carl Perkins, Yardbirds, Johnny Otis, Zombies, Byrds, Sonics and a number of others to compile their song list.
The band soon discovered that they weren't alone in their enjoyment of these great songs. One fan said to the band, "we stopped going to hear bands because no one was playing our music…" The audiences have continued to grow each year and their feedback confirms that this era of rock and roll is truly special and still loved by people of all ages. The connection between this music and the audience has become more than even the Claytons could have imagined.
The Brothers, all seasoned players, came together in 2004 to form the band.
Brother Bill's steady beat punctuates the three guitar sound that has become the "Clayton" trademark. His tastes lean toward the British Invasion and other group songs of the sixties.
Brother Marc, lead guitar and vocalist, provides the guitar riffs which are the signature to so many of the songs of the era. His knowledge and experience are key ingredients to The Clayton Brothers success.
The original Clayton is brother Terry. In addition to bringing a solid rhythm guitar and vocals to the band, he is also a successful country-western songwriter. He helps this rock and roll outfit be "a little bit country."
The voice most often heard at a Clayton Brothers show is that of brother John. In addition to his rhythm guitar, bass and vocal duties he is also the link between the band and it's audience. John's fondness for the British Invasion and his taste for folk rock brings out the gentler side of the band.
The Clayton Brothers Band is one of the few groups which can boast four accomplished vocalists. Brother Rob's taste for the blues give the band yet another dimension. His vocal interpretations of blues based rock along with his steady bass and soaring harmonica complete the mix.
In performance The Clayton Brothers Band has a very basic goal. Have fun and invite the audience to have fun too.
Appearing for the seventh consecutive year at The Berea National Rib Cook-Off.
The Clayton Brothers Band…Primitive Rock and Roll for the "now" generation.
Haywire
Website: haywirerocks.com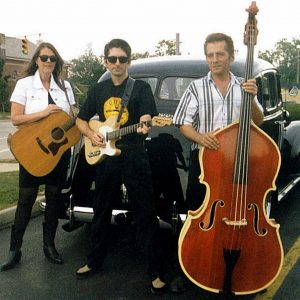 Hi Everybody, We're called HAYWIRE!
Haywire's band members (Dennis, Cathy, Rick and Thomas) have been enjoying and playing rockabilly for a long time. Thomas is our newest member! He's an excellent drummer who gives our band that extra kick. Cathy writes songs, and is a fine lyricist, too. Her solid rhythm guitar is the engine that drives Haywire's music. Her exceptional harmony singing also adds a lot to our sound! Rick is a versatile musician. He plays upright bass (with Haywire), drums, and guitar. His natural feel on the bass is an asset to our music. Dennis (aka Rockin' Denny) is our lead singer and guitarist.
Our influences are: Carl Perkins, Warren Smith, Johnny Cash, Robert Gordon, Buddy Holly, the Rock-n-Roll Trio, Elvis, The Stray Cats, Roy Orbison, Eddie Cochran, Chuck Berry and the Rolling Stones.
We've been playing all over Northeast Ohio for many years. We've played at Bookstores, Bars, Summer Concerts, The Rock and Roll Hall of Fame, Community Events, Cuyahoga County Fair (and many others) and Private events.
We're a Rockabilly/Roots Rock Band, "…that's fresh, fun, and smoothly rocking"
Band Members:
Dennis Petti- Lead Vocals and Lead guitar, Cathy Petti – Acoustic guitar and Harmony Vocals, Rick Santon – Upright Bass and Back up Vocals, Thomas Anonymous – Drums and Back up Vocals.