Rides from Kissel Amusement Company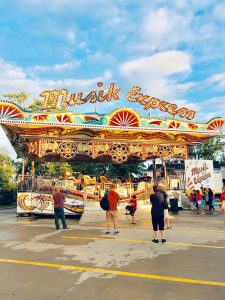 This year Berea's National Rib Cook Off & Beer Fest is excited to announce that we'll be expanding the number of amusement park rides for the enjoyment of all. Kissel Amusement Company will be bringing in their Gator Kids Coaster, Kids Truck Ride, Music Express, Rock-O-Plane along with a Rock-Climbing Wall, a Super-Slide and Swings.
Ride Pricing
Ultimate Ride Armbands may be purchased for $15 per rider, and are good All Day. Alternately, ride tickets may be purchased individually for $1 per ticket, with admission to most rides costing between 2-4 tickets.