Posted below please find the list of acts slated to perform on the Southwest General Stage at the 2023 Berea's National Rib Cook-Off & Beer Fest. Be sure to check back to for all the latest updates. We'd also like to extend special thanks to Southwest General for their generous support of our event. To find out when a particular act is set to perform, click here to check our Southwest General Stage Performance Schedule.
Cruisin'
When: Fri, May 26 at 4:30pm
Website: thebandcruisin.com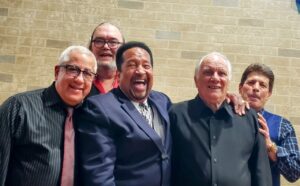 The Band Cruisin' was founded by lead singer and sax player Ron Howard in 1986. It's rare in this business to find a group that has been together for over 30 years. It's even more unusual for a group to be as successful as Cruisin'.
That success can be attributed to five dedicated guys who have lived and breathed the music of Motown and classic rock, and who consistently perform the high-energy R&B, Motown, and dance hits from the 70s, 80s and 90s with a style, flair and sound second only to that of the original artists.
If you ever have a chance to talk to Ron about the group and the success they've had over the years, he'll tell you it all revolves around a passion for the music. And it's this passion that provides the background for Cruisin's powerhouse performances. Ask anyone who has heard them at Put-In-Bay, Kelley's Island or anywhere in the 5-state area where they perform, and you'll be told that Ron Howard and the band Cruisin' are synonymous with "great entertainment."
Bronx Country
When: Fri, May 26 at 7:30pm
Website: facebook.com/bronxcountryCLE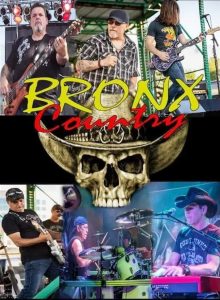 Bronx Country is a hard rockin' country band that plays everything from Brantley to Aldean, and Skynard to ZZ Top. They're a HARD ROCKIN COUNTRY BAND whose slogan is, "Kickin the Pop Outta Country." They perform at bike nites across the state—from Sandusky's Ohio Bike Week (where they opened for Phil Vassar & The Kentucky Headhunters and John Michael Montgomery), to all the Bike Nites and special events sponsored by NE Ohio's Quaker Steak & Lube franchises (like the WGAR/QS&L/iHeart Radio's "Afternoon Saloon."
BRONX COUNTRY has been selected to perform at the Cleveland Metro Parks event, EDGEWATER LIVE, as well as Twilight at the Zoo, and FOX8's Morning show.
Bronx Country is…
JEFF BODEEN (VOCALS)
Elmer Harden "Tiny"(BASS,VOCALS)
TROY MCILVEEN (DRUMS)
JOHN CAPOTA (GUITAR)
DOUGIE MANROSS (GUITAR/VOCAL)
CHRIS BLOOMHUFF (KEYBOARDS/VOCAL)
Follow the Sun
When: Sat, May 27 at 1:30pm
Website: followthesunband.com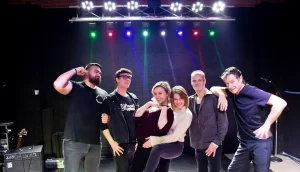 Established in 2018, Follow the Sun has taken the Cleveland music scene by storm with their distinct sound, diverse taste in music and broad range of vocals. Their members consist of Bob Wick on drums, Richie Jackson on lead guitar, Gene Guercia on rhythm, Ryan Bellinger on bass, and Laura Fedor and Sophie Jackson on lead vocals. With their collective years of experience in the music industry, these six have come together to create a sound that is truly unique and special. Covering a wide variety of musical genres and eras, they strive to have something for everyone; from the 50's through today, no genre is left behind and they are constantly working on expanding their set list.
The perfect addition to any event or just simply a fun night out at the bar, Follow the Sun is excited to keep bringing the party to Northeast Ohio!
Back 2 the Future
When: Sat, May 27 at 4:30pm
Website: sites.google.com/view/back2thefuture80scletribute/home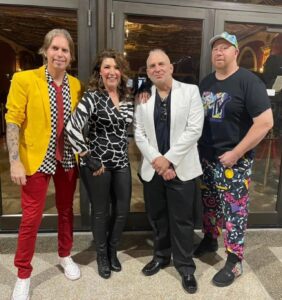 B
ack 2 The Future is a tribute to high energy, dance and sing-along music from the 80s: Madonna, Prince, Michael Jackson, Journey, Bon Jovi & even one hit wonders.
B2TF is:
Emily: lead vocals
Freddy: guitar, vocals
Joe: bass, vocals
Jake: drums, vocals
Revolution Pie – A Tribute to the Beatles
When: Sat, May 27 at 7:30pm
Website: revolutionpie.com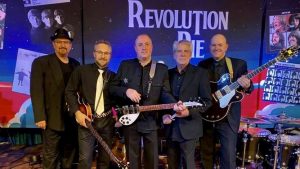 Revolution Pie is one of Northeast Ohio's premier Beatles Tribute Bands. They have played for many thousands of Beatle fans at various events over the last 18 years. Revolution Pie specializes in not just one but every aspect of The Beatles musical history including the early mop top, psychedelic, hippie and rooftop era's. Their repertoire includes over 100 songs taken from all 13 Beatles albums and covers the entire spectrum of The Beatles stellar recording careers. They use Vox amps, Rickenbacker guitars, the Hofner bass, DW drums and Roland keyboards to achieve the proper sound of The Beatles recordings.
As song recreators, Revolution Pie strives to attain a note for note recreation of the greatest songs ever written both musically and vocally. Their stage show is a high energy, fun filled, family friendly event that everyone enjoys. The band musicians include Ralph Criswell on rhythm guitar and lead vocals, Chris Spisak on bass guitar and vocals, Peter Telari on drums, Paul Fresty on lead guitar, keyboards and vocals, Mike Carlozzi on keyboards, percussion and vocals and Jim Bossler on rhythm guitar and vocals.
Revolution Pie has performed at Abbey Road on the River, Cleveland Indians Rock N Blast, The Cleveland Browns, Cleveland Clinic Velosano, Cleveland MetroParks, FOX 8 Morning Show, Cleveland Public Square Paul McCartney pre-concert rally, American Red Cross, American Cancer Society, Komen Race for the Cure, Cleveland Zoo, House of Blues, Beachland Ballroom, Music Box Supper Club, Akron Civic Theater, Kenyon College, Akron Leadership, Legacy Village, Parma Rib N Rock, Northcoast Beatle Fest and Rubber City Beatle Fest. They also opened for music legends Peter Asher of Peter & Gordon and Denny Laine of Moody Blues and Wings. They have performed at many city events and numerous festivals for many thousands of Beatle fans over the last 18 years.
Revolution Pie is…
Ralph Criswell – Rhythm Guitar and Lead Vocals
Chris Spisak – Bass Guitar and Vocals
Peter Telari – Drums and Percussion
Paul Fresty – ​Lead Guitar, keyboards and Vocals
Michael Carlozzi – Keyboards, Percussion and Vocals
Jim Bossler – Rhythm Guitar and Vocals
Jam Machine
When: Sun, May 28 at 1:30pm
Website: jammachinemusic.com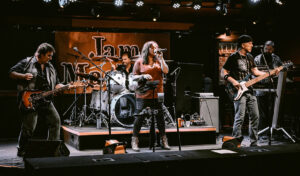 Comprised of seasoned veteran musicians, the group provides quality professional entertainment for your event, party or venue.

Upbeat, entertaining; performing a full range of material from classic rock, pop, R&B and dance favorites.

The Jam Machine is…
Priscilla – Vocals
Tom McBride – Keyboards, Vocals
Vince Cirigliano – Drums, Vocals
Scott Emerson – Bass, Vocals
Mike Binder – Guitar, Vocals
Facebook: @jammachinemusic
The Tea Bags Band
When: Sun, May 28 at 4:30pm
Website: thebash.com/80s-band/the-tea-bags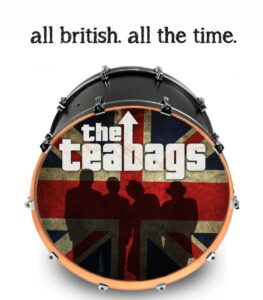 The Tea Bags are a 5 piece high energy rock band who perform MEGA Hits from all eras of British artists, with a main focus on the 1980s.
We feature the music of The Beatles, The Clash, ELO, Duran Duran, David Bowie, Queen, The Rolling Stones, The Cure, Wang Chung, Billy Idol, Rod Stewart, The Kinks, Depeche Mode, EMF, Madness, Psychedelic Furs, Flock of Seagulls, The Buggles, Rick Astley, Robert Palmer, The Sweet and many more. The Tea Bags feature 5 vocalists with lush harmonies and tend to run songs together in a medley format for maximum party fun.
Visually the band wears British themed costumes complete with British accents. The Tea Bags have been performing since 2015 in various configurations.
Facebook: @theteabagsband
The Foogazies
When: Sun, May 28 at 7:30pm
Website: facebook.com/thethreefoogazies
The Foogazies are a local three piece rock band in Ohio. On guitar and vocals, we have Eric "The Mossman" Moss. Big man slapping the bass is Sean Stone. And Will Brewer brings the thunder on the drums. Together, they bring an unreal energy to the stage that will leave a lasting impression on you.
The band was established by Eric and Will in 2018 as two Midpark alumni but have been jamming together since meeting each other in 7th grade at Ford Middle School. Throughout their musical journey, the two friends have played many shows in the Cleveland area. They even played at the Rock and Roll Hall of Fame after entering a song in a song writing contest in 2009. Sean Stone became a Foogazie in 2020, and the band made their initial debut at the Berea National Rib Cook Off in 2021. Most of the time each member will stick to playing their own instrument, but each is a multi-instrumentalist and sometimes will switch instruments just to mix things up a bit.
The Foogazies specialize in classic rock and hard rock, but they also enjoy playing a wide range of music which includes country, reggae, funk, soul, alternative rock, pop and even some hip hop. They have a well mixed list of covers, old and new, as well as a few original songs of their own. You can follow them on Facebook, Instagram and YouTube. Original music soon to come out wherever you stream your music from!
Instagram: @thefoogazies
Facebook: @thethreefoogazies
Fleetwood 2 the Max
When: Mon, May 29 at 1:00pm
Website: fleetwood2themax.com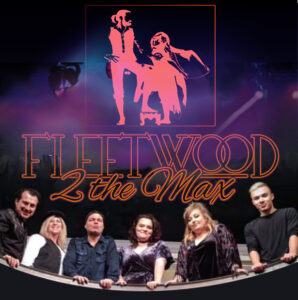 "With Fleetwood Mac, it's an amazing chemistry we have on stage." – Christine McVie
Undoubtedly, that statement is the essence of what would ultimately establish Fleetwood Mac as one of the most preeminent musical acts of all time. Paying tribute to such an iconic band is no easy feat, which is exactly why the Lima, Ohio based Fleetwood 2 The Max lives up to the challenge.
Fleetwood 2 The Max (F2M) captures the signature sound and performance from the heyday of Fleetwood Mac (1975-1987) which featured the most notable and well-known line-up of Stevie Nicks, Christine McVie, Lindsey Buckingham, John McVie and Mick Fleetwood.
F2M Founder Jimi Goare taps into his best Lindsey Buckingham with both the fret skills and vocal range that audiences expect. The veteran guitarist, vocalist, producer and composer is no stranger to the stage, having played with some of the biggest acts in music, including Night Ranger, Cheap Trick, Richard Marx, Robin Trower and Grand Funk Railroad.
Singers Kelly Spallinger and Raegan Cox ignite the synergy of Nicks and McVie with both sincerity and accuracy. Kelly conveys the raspy edginess so prevalent in Gold Dust Woman and Rhiannon while Raegan intertwines the velvety overtones in such classics as You Make Loving Fun and Dreams.
​Keyboardist Dean Altstaetter is a classically trained blues and jazz inspired player who is right at home on the Rhodes electric piano, acoustic piano, Clavinet and organ. With the music of Fleetwood Mac, keyboard duties come in pairs! Between Dean and Kelly, it's all covered. Whether it's the vintage Rhodes and Clav (You Make Loving Fun) or piano and organ (Say You Love Me), all original keyboard arrangements are present.
​Bassist Sue Alt and drummer Evan Kieffer supply a solid, accurate foundation to the groove with all of the rhythm hooks that fans of Fleetwood Mac expect.
Facebook: @F2tMLimaOhio
DoobieUS
When: Mon, May 29 at 4:00pm
Website: facebook.com/DoobieUStribute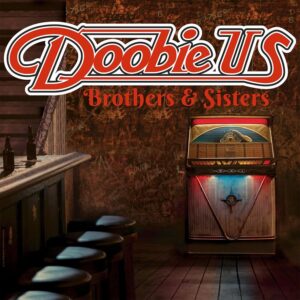 Some of the most enduring and iconic music of the post-Vietnam era was created by The Doobie Brothers. Preserving their authentic vocal harmonies, instrumental drive, and soulful, uplifting spirit is DoobieUS, a group of seasoned veterans in the music industry. Formed in west-central Ohio, DoobieUS Brothers and Sisters Tribute Band cover the essential Doobie Brothers hits from both the Johnston and McDonald eras, and even some additional favorites from their side projects–sure to delight all tastes and ages in the DoobieUS audience.