A partial list of acts slated to perform on the Southwest General Stage at the 2021 Berea's National Rib Cook-Off & Beer Fest is posted below. Be sure to check back to for all the latest updates. We'd also like to extend special thanks to Southwest General for their generous support of our event. To find out when a particular act is set to perform, click here to check out our Southwest General Stage Performance Schedule.
Cruisin'
When: Fri, May 28 at 4:30pm
Website: thebandcruisin.com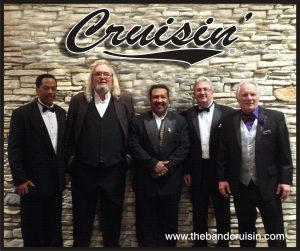 The Band Cruisin' was founded by lead singer and sax player Ron Howard in 1986. It's rare in this business to find a group that has been together for over 30 years. It's even more unusual for a group to be as successful as Cruisin'.
That success can be attributed to five dedicated guys who have lived and breathed the music of Motown and classic rock, and who consistently perform the high-energy R&B, Motown, and dance hits from the 70s, 80s and 90s with a style, flair and sound second only to that of the original artists.
If you ever have a chance to talk to Ron about the group and the success they've had over the years, he'll tell you it all revolves around a passion for the music. And it's this passion that provides the background for Cruisin's powerhouse performances. Ask anyone who has heard them at Put-In-Bay, Kelley's Island or anywhere in the 5-state area where they perform, and you'll be told that Ron Howard and the band Cruisin' are synonymous with "great entertainment."
Bronx Country
When: Fri, May 28 at 7:30pm
Website: bronxcountry.com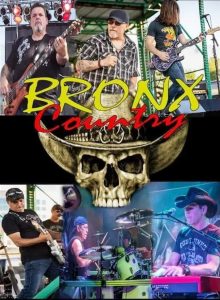 Bronx Country is a hard rockin' country band that plays everything from Brantley to Aldean, and Skynard to ZZ Top. They're a HARD ROCKIN COUNTRY BAND whose slogan is, "Kickin the Pop Outta Country." They perform at bike nites across the state—from Sandusky's Ohio Bike Week (where they opened for Phil Vassar & The Kentucky Headhunters and John Michael Montgomery), to all the Bike Nites and special events sponsored by NE Ohio's Quaker Steak & Lube franchises (like the WGAR/QS&L/iHeart Radio's "Afternoon Saloon."
BRONX COUNTRY has been selected to perform at the Cleveland Metro Parks event, EDGEWATER LIVE, as well as Twilight at the Zoo, and FOX8's Morning show.
Bronx Country is…
JEFF BODEEN (VOCALS)
Elmer Harden "Tiny"(BASS,VOCALS)
TROY MCILVEEN (DRUMS)
JOHN CAPOTA (GUITAR)
DOUGIE MANROSS (GUITAR/VOCAL)
CHRIS BLOOMHUFF (KEYBOARDS/VOCAL)
The Foogazies
When: Sat, May 29 at 1:30pm
Website: facebook.com/thethreefoogazies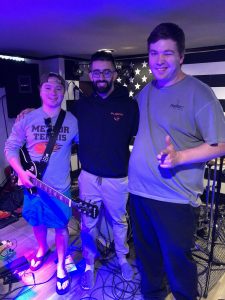 While Willie Brewer is the lead drummer of this band, he is not the only drummer of the band. Between Eric Moss (lead guitar), Spencer Kropog (lead bass) and I, we possess the ability to play each other's instruments very well. We do have a couple songs that we all switch things up but mostly we stick with our designated instruments. We are a local three-piece band from the Cleveland area.
We specialize in classic rock and hard rock, but we range from country, reggae, funk, soul, alternative rock, pop and even some hip hop. We plan to play an extensive list of covers, as well as a few original songs of ours.
Tiny Hands Band
When: Sat, May 29 at 4:30pm
Website: facebook.com/pg/tinyhandsband/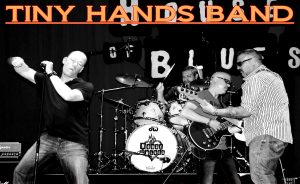 Tiny Hands Band has been entertaining Cleveland with high energy classic rock for about a decade. In fact, two of THB's members — Jeff (guitar) and Vince (bass) — have played in bands together since the 90's.
THB prides themselves on playing not just the same crowd favorite covers every cover band plays, but also the classic rock songs you've never heard played live… much less played by a band made up of three instruments and vocals. THB plays tried and true classics by the likes of Lynyrd Skynyrd, Cheap Trick, and ZZ Top, but also plays tunes by The Alan Parsons Project, ELO, Bill Withers, Jay Ferguson, and maybe most famously… Sweet. (Have you heard Ballroom Blitz lately?)
A fearsome foursome of tightly-played rock, THB has played all over the Cleveland area over the years: Tony K's Bar and Grill, Sly Fox Lounge, Fairview Tavern, Bullfrog's Sports Cafe, Paradise Island Saloon, Bubba's Q, and even the main stage at the House of Blues Cleveland.
Tiny Hands Band is comprised of four regular guys who also happen to be talented and experienced musicians. Jason, the lead singer, has been singing and performing since he could walk, and has been a part of other bands like popular late night bar pop/rock cover band Drunk Betty, and grunge and heavy alternative rock band Mr. Furley. Jeff, on lead guitar, produces enough rockin' sound to equal two guitars instead of just one, and has been the lead guitarist in bands like doctor rockers Skin n Bones (with Vince), power pop and soccer mom rap mashup band My Manic Episode (sometimes with Vince and Jason), and deep cut classic rock band Eightball (also with Vince and Jason). Vince, master of the low notes and THB's resident Count of Cool, not only plays bass, but sings ZZ Top and AC/DC with a gravelly intensity that makes women swoon, and Jason jealous. He's played for some of the aforementioned bands, as well as a classic soul band… that's how cool Vince is. And Axl on drums… he's the rock behind the whole of THB's operation. Appearing in other successful Northeast Ohio cover bands like Glitter Pig and Jugular Jack, his drumming is nothing short of life-changing. Oh and he sings too.
Tiny Hands Band is a melting pot of classic rock music that aims to amaze. You're guaranteed to have a rockin' good time with THB!
The Tiny Hands Band are…
Jason Florack – Lead Vocals
Jeff Karp – Guitar
Vince Marce – Bass & Vocals
AxlF – Drums & Vocals
Revolution Pie – A Tribute to the Beatles
When: Sat, May 29 at 7:30pm
Website: revolutionpie.com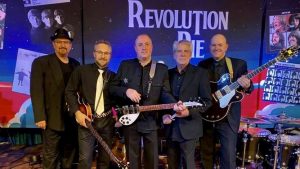 Revolution Pie is one of Northeast Ohio's premier Beatles Tribute Bands. They have played for many thousands of Beatle fans at various events over the last 18 years. Revolution Pie specializes in not just one but every aspect of The Beatles musical history including the early mop top, psychedelic, hippie and rooftop era's. Their repertoire includes over 100 songs taken from all 13 Beatles albums and covers the entire spectrum of The Beatles stellar recording careers. They use Vox amps, Rickenbacker guitars, the Hofner bass, DW drums and Roland keyboards to achieve the proper sound of The Beatles recordings.
As song recreators, Revolution Pie strives to attain a note for note recreation of the greatest songs ever written both musically and vocally. Their stage show is a high energy, fun filled, family friendly event that everyone enjoys. The band musicians include Ralph Criswell on rhythm guitar and lead vocals, Chris Spisak on bass guitar and vocals, Peter Telari on drums, Paul Fresty on lead guitar, keyboards and vocals, Mike Carlozzi on keyboards, percussion and vocals and Jim Bossler on rhythm guitar and vocals.
Revolution Pie has performed at Abbey Road on the River, Cleveland Indians Rock N Blast, The Cleveland Browns, Cleveland Clinic Velosano, Cleveland MetroParks, FOX 8 Morning Show, Cleveland Public Square Paul McCartney pre-concert rally, American Red Cross, American Cancer Society, Komen Race for the Cure, Cleveland Zoo, House of Blues, Beachland Ballroom, Music Box Supper Club, Akron Civic Theater, Kenyon College, Akron Leadership, Legacy Village, Parma Rib N Rock, Northcoast Beatle Fest and Rubber City Beatle Fest. They also opened for music legends Peter Asher of Peter & Gordon and Denny Laine of Moody Blues and Wings. They have performed at many city events and numerous festivals for many thousands of Beatle fans over the last 18 years.
Revolution Pie is…
Ralph Criswell – Rhythm Guitar and Lead Vocals
Chris Spisak – Bass Guitar and Vocals
Peter Telari – Drums and Percussion
Paul Fresty – ​Lead Guitar, keyboards and Vocals
Michael Carlozzi – Keyboards, Percussion and Vocals
Jim Bossler – Rhythm Guitar and Vocals
Chardon Polka Band
When: Sun, May 30 at 1:30pm
Website: chardonpolkaband.com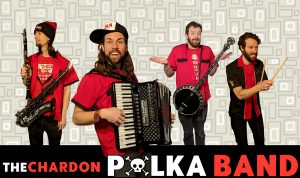 TIn 2003, 16-year old Jake Kouwe was told there was no place for an accordion in his local high school's marching band. In response, Jake recruited a group of five mismatched teenagers to form a genuine oom-pah style polka band. This group, known as "The Chardon High School Polka Band", was a rather motley group of teenage musicians that included in the line-up an accordion, tuba, clarinet, saxophone, electric guitar, and trumpet.
The group quickly found a following in the most unlikely of places- local nursing homes. Despite their ripped jeans, high school lingo, long (and even pink) hair, piercings and tattoos, senior citizens and nursing home residents turned a blind eye to their looks and fell in love with the polka-playing teens. However, the phenomena weren't lost on their own generation. Soon, "Support Your Local Polka Band" t-shirts were being worn in the halls of Chardon High by fellow classmates and fans.
Now, fifteen years later, the band continues and its fan base grows. In the small town of Chardon, Ohio, long haired Jake Kouwe and his oom-pah gang are celebrities. The band no longer calls itself "The Chardon High School Polka Band", since the original group has all graduated from high school (barely), and is now simply "The Chardon Polka Band". Though the band's membership of sometimes eccentric and always unique individuals has changed over the years, their eclectic style and uniqueness has never wavered.
Despite the band's sometimes gruff appearance, this delightfully eccentric gang is both friendly and outgoing. They are among the greater Cleveland area's most recognizable performers at local parks, festivals, parades, parties and fund-raisers, and still perform regularly at local nursing homes. The polka band has a faithful fan base, ranging from senior citizens to small children, teens, and twenty-somethings.
Ohio isn't the only place that these polka-punks are a hit. The Chardon Polka Band has become a well-known act in the fall "Oktoberfest circuit", headlining at some of the nation's largest seasonal events. This includes festivities in Indianapolis (IN), Helen (GA), Chicago (IL), Myrtle Beach (SC), Vernon (NJ), Tampa (FL), Alamogordo (NM), Tulsa (OK), St. Louis (MO), New Braunfels (TX), Mount Angel (OR), and many more. The band travels throughout the nation playing various other festivals and events. Their showmanship and humor has won them many fans outside the polka genre.
In the "Member Bios" section of this website, you can view details and trivia regarding the different members of the ensemble. The members of the band, though not all related by blood, are truly an eclectic family. They have a common goal of creating music that others can enjoy and participate in. Each member of the group has something of their own to add to the mix.
The band's range of style is as equally eccentric as its members. The Chardon Polka Band plays traditional polkas reminiscent of "The Lawrence Welk Show", a style that has endeared them to traditional polka fans, but sometimes morphs into punk-rock renditions of the same songs, modified to bring in a younger audience. They throw in comedic renditions of oddball favorites, bizarre audience participation songs, and even polka-rock covers of anything from Twisted Sister's "We're Not Gonna Take It" to Queen's "Fat Bottomed Girls" to Lady Ga Ga's "Bad Romance"! The Chardon Polka Band also has an ever-growing library of original tunes, many of which are featured on their popular studio albums.
Seven Nations
When: Sun, May 30 at 4:30pm & Mon, May 31 at 4:00pm
Website: sevennations.com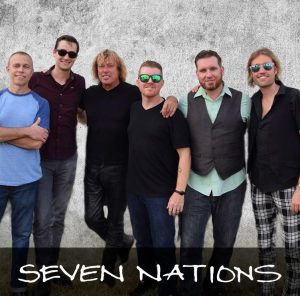 Seven Nations is not your father's Celtic band. With a passionate, tender, and rollicking style that winningly veers from roots and folk to dance and fusion-rock, Seven Nations has earned a growing reputation as an adventurous band with a charismatic stage presence.
"Seven Nations — the name refers to the seven original Celtic nations of Scotland, Ireland, Wales, Cornwall, Galecia, Isle of Man, and Brittany — officially began in 1993 in New York City with a standard line-up of drums, guitars, and bass," notes lead singer and guitarist Kirk McLeod.
"We soon introduced bagpipes into the show, and over time the number of songs utilizing bagpipes grew until it became obvious that they were integral to our emerging sound," says McLeod. "Most of the band members grew up playing Celtic music, and we've been performing original compositions since we began. Our instrumentation, and bagpipes and fiddle mostly, give us a distinctive sound and that's what makes us different."
Seven Nations has been touring full-time since 1994 with successful stops in Europe, Canada, Puerto Rico, and virtually every state in the US. The band has recorded a number of albums with over a quarter million units in sales. The band's latest album, Time as the Enemy has been praised for "having the appeal of the original albums, yet a mature songwriting style. The lyrics are relatable, surprising, and the pipe/fiddle hooks stir a desire to listen to the album over and over."
Its versatile and dynamic style has stamped Seven Nations as a highly book-able band, with an ever increasing and loyal fan base. The group has performed at a variety of venues, from nightclubs and pubs to festivals and street fairs. They've done it all. Recently, garnering the attention of the Orchestra world by including dates with several American orchestras, most notably the multi-Grammy-winning Atlanta Symphony Orchestra, the Jacksonville Symphony, and the South Carolina Philharmonic. They also became the first Celtic rock band to bring this exhilarating collaboration to the stage at an outdoor Irish festival, when they performed an entire show with the Columbus Symphony Orchestra at the Dublin Irish Festival.
In addition, Seven Nations has played the Winter Olympics in Salt Lake City, a New Year's Eve performance at Scotland's Royal Mile for some 40,000 people, and at the New York City Marathon.
Seven Nations has been the subject of a multi-million dollar advertising campaign and appeared in over 20 major publications including Rolling Stone, Billboard, Playboy, Maxim, GQ, Stuff, and FHM.
It's been over a decade and close to a million miles logged on the road for Seven Nations since their inception and they're just getting started. With a highly anticipated return to their roots of festivals, touring and recording, this indie band is poised for another amazing decade.
Seven Nations are:
Kirk McLeod – Vocals, Guitar
Jim "Struby" Struble – Bass
Christian "Crisco" Miceli – Drums
Victor Gagnon – Fiddle
Will MacMorran – Bagpipes, Guitar
Cleveland's Breakfast Club
When: Sun, May 30 at 7:30pm
Website: clevelandbreakfastclub.com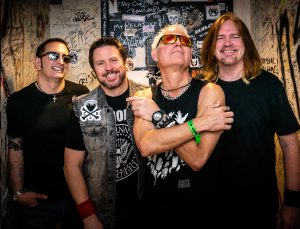 Cleveland's Breakfast Club was formed in 2000 in Cleveland, Ohio. With a primary focus on all the greatest hits of the 80's, and having opened for acts such as Coolio, Nelly, Bret Michaels, and Lita Ford, they are the ultimate tribute to one of the best decades in modern music. Ranging from the great pop stylings of Journey, Duran Duran, Rick Springfield, Bryan Adams, The Cure, U2, The Cars, INXS, and J. Geils Band to the rock sounds of Def Leppard, Bon Jovi, Guns and Roses, Van Halen, AC/DC, Night Ranger, and Motley Crue, they are sure to keep the dance floor packed and the crowd singing along. Although their focus is on the 80's, Cleveland's Breakfast Club is not limited to just that era. This highly versatile 4 piece band is adversed in all styles of music with nearly 100 years of professional playing experience. They can custom build a song list to your clients liking. Want to hear a great medley by The Beatles and The Eagles or the hot new dance songs by Walk The Moon and Bruno Mars? Cleveland's Breakfast Club will make your event one that people talk about for a long time and won't soon forget!
Yearbook
When: Mon, May 31 at 1:00pm
Website: yearbookmusic.com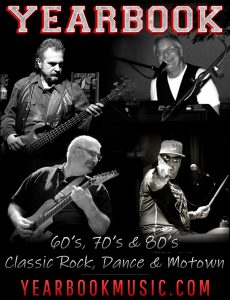 Welcome to Yearbook on the Web. Yearbook is a Classic Rock/dance Rock/ Motown group performing primarily in the Northeast Ohio region. We are moving into 2021 with a wider selection of materials and with a change in direction. YEARBOOK is moving into our twenty-sixth year and we are having more fun and playing more places than ever. Our list of regular venues has grown to include: Cedar Point, Various Eagles, and Moose Clubs, Rock Creek Kitchen and Grille, Charlies on the Beach, and The Shores Club, Giant Eagle Market District, and The Park Tavern. We have also expanded into many other private areas including parties and weddings. In 2021 our online schedule will reflect the increased number of private functions. We will still have a fair amount of public gigs as well as the schedule will clearly show.
Yearbook has also expanded our material list to include the 60's, the 70's, and the 80's, helping us appeal to a wider audience. Our lineup features Joe Paulsey on Guitars and vocals, Dave Kammerman on Drums and Vocals, Joe Salem on Keyboards and Vocals, and Bill Uhler on Bass and Vocals.
Our texture has changed with a wider array of material and a more driving sound as focus moves to the dance-rock, and classic rock of the time. Look for the song list to grow and become more diversified in 2021 In addition to this site, Yearbook maintains an e-mail and snail mail list. To join, send an e-mail message with your name, and either e-mail or snail mail address to yearbookbandohio@outlook.com. The Schedule will be updated as new gigs are added and check back often for News. In the meantime, browse the site and feel free to take advantage of the many opportunities throughout to give the band some feedback.